Opening text
Dr Valerie Wright, Research Associate: 'Employment, Politics & Culture in Scotland, 1955-2015', in the Economic & Social History Department of the School of Social & Political Sciences at the University of Glasgow), reports on a successful SLHS Doors Open Day Walk:

Back in September the Scottish Labour History Society ran three guided walks for Glasgow Doors Open Day. For the second year I led the 'Women, the War, Rent Strikes and Revolution' walk, this year with my friend and co-author Dr Julie Clark who is an urban geographer based at the University of the West of Scotland.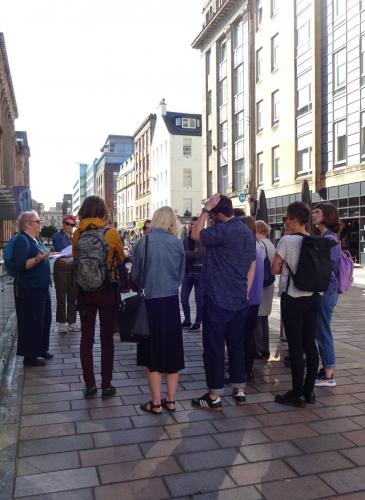 We had a lovely sunny day for the walk and the turnout was good. Everyone was really interested in the women we discussed on the route from the site of the former Duke Street Prison to the banks of the Clyde. There were lots of questions about women such as Helen Crawfurd, who before she was a communist party member was a suffragette, enduring hunger strike in Duke Street in March 1914. We learned about Dorothy Grace Elder who was editor of the Scottish Daily News and Jenny Patrick and Ethel MacDonald of The Strickland Press. We couldn't huddle in George Square as there was a demonstration on which seemed appropriate (my voice would have been drowned out). So we stood together behind the city chambers to discuss the Women's Peace Crusade and Agnes Dollan.

Then at the former Sheriff Court we imagined the crowds demanding that the Government prevent rent increases and remembered the actions of Mary Barbour and thousands of working-class women like her who refused their profiteering landlords any more of their hard earned wages. We discussed the 'Red Clydeside' MPs who left St Enoch Square in 1919 and pondered why there were no women among them. Tom Johnstone (yes, we included some men!) and his support for women's suffrage was explored outside what would have been the site of the Forward offices.
We finished down by the Clyde at the statue of Dolores Ibárruri, known as La Pasionaria, discussing women's role in the Spanish Civil War and also returned to discussing the sites of Women's Suffrage activity in Glasgow. Our two-hour walk ended with us thinking about what had changed in a hundred years and the inequalities that remain in political representation, the demand for fair rents and wages and for peace in the world we live in.
The walks will hopefully run again in September 2020 – we'll see you then!